Bangalore has seen fast growth in the real estate sector. One of the leading names in this sector is Birla Apartments, a branch of the renowned Birla Group. The pricing makes it an inexpensive option for many home buyers. If you plan to invest in a dream home, Birla Apartments in Bangalore is worth considering.
We have chosen some of the best areas of Bangalore for the property location. The apartments are in prime areas with the best transit network to other major parts of the city. You have access to hospitals, schools, and shopping malls nearby.
Building design and architecture are other vital factors to consider. Our builders create the best living space for the residents and offer ample space and natural light. We design our flats with the recent trend to suit modern lifestyles. The usage of good materials and energy-efficient methods makes it more attractive.
The superior luxuries we provide cater to different age groups. Our projects have the best gyms, swimming pools, sports halls, clubs, and play areas. The flats also have 24-hour security to ensure the safety of the residents.
The happy news is we offer the best pricing that makes it inexpensive to many buyers. The flats come in various designs, like 1 BHK to 4 BHK. It suits all needs of every individual and family
Our brand value is another vital factor for your investment. Birla Apartments' brand value is known for its focus on excellence, quality, and trust. Investing in our group offers security and a fancy living experience. When you invest, you live in an ultra-posh flat and become part of a legacy that has stood the test of time.
Best Birla Apartments in Bangalore 2023 are
Birla Alokya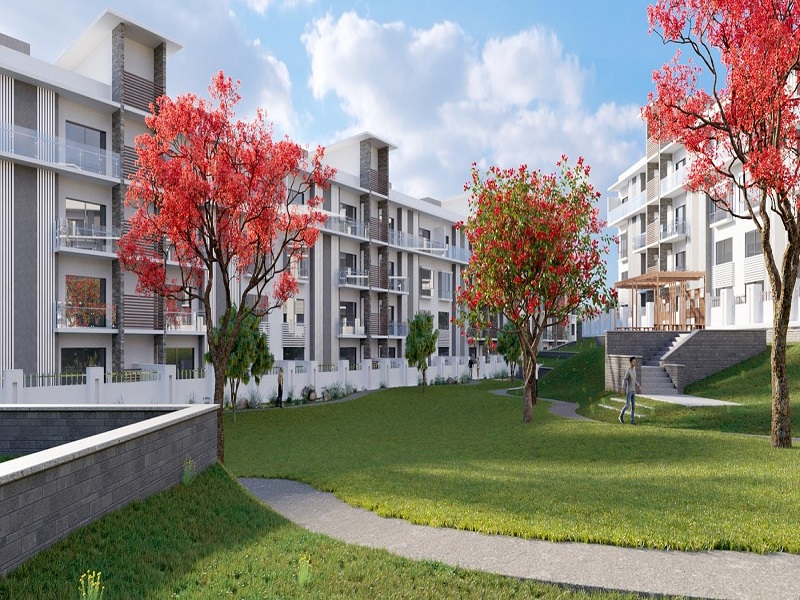 Birla Alokya is a luxury housing project in Whitefield, Bangalore, by Birla Estates. The project offers 218 3 BHK and 4 BHK villas in a gated community. It spreads over 7.9 acres of land. We have built the villas with modern design. Lush greenery surrounds the villas, gives a calm living experience.
The project has luxury comforts such as a club, swimming pool, and gym. It also has indoor and outdoor sports areas. There is also children's play area, event hall, library, and grocery shop within the flats.
We have designed the villas at Birla Alokya to offer maximum comfort and luxury. They have ample natural light and ventilation. The villas at Birla Alokya are large and range from 2088 sq ft to 3474 sq ft. Each villa at has a private garden. It also has a terrace, giving the perfect setting for relaxation and fun.
The project is well connected to the city's major spots. IT companies, business areas, schools, colleges, hospitals, and shopping malls are nearby. The project is also close to other facilities like golf courses, parks, and theatres.
Birla Tisya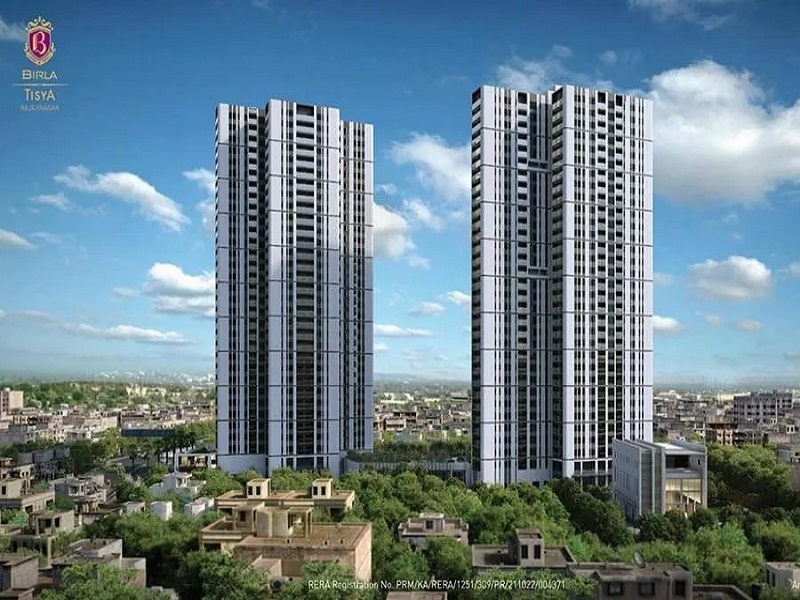 Birla Tisya is another residential project by Birla Estates in Jalahalli, Bangalore. The project offers various configurations of 2, 3, and 4 BHK flats. The apartments at Birla Tisya are spacious and come with modern amenities. These include a clubhouse, swimming pool, gym, and more. The airport, railway station, and bus terminal are nearby. This makes it a convenient choice for residents who need to commute.
Spread across 1.5 acres of land, the project offers 218 apartments. 2 BHK apartments range from 810 to 924 square feet. 3 BHK apartments range from 1184 to 1404 square feet. And 4 BHK apartments range from 1929 to 1944 square feet.
The apartments maximize space and natural light with large windows and open balconies. The clubhouse has various facilities, including a party hall, indoor games, and a reading room. The swimming pool is large and inviting, and there is a separate children's pool. The gymnasium has modern equipment for a complete workout.
The project is well-connected to the Outer Ring Road, Tumkur Road, and other major highways. This provides easy access to the rest of the city.
Birla Arnaa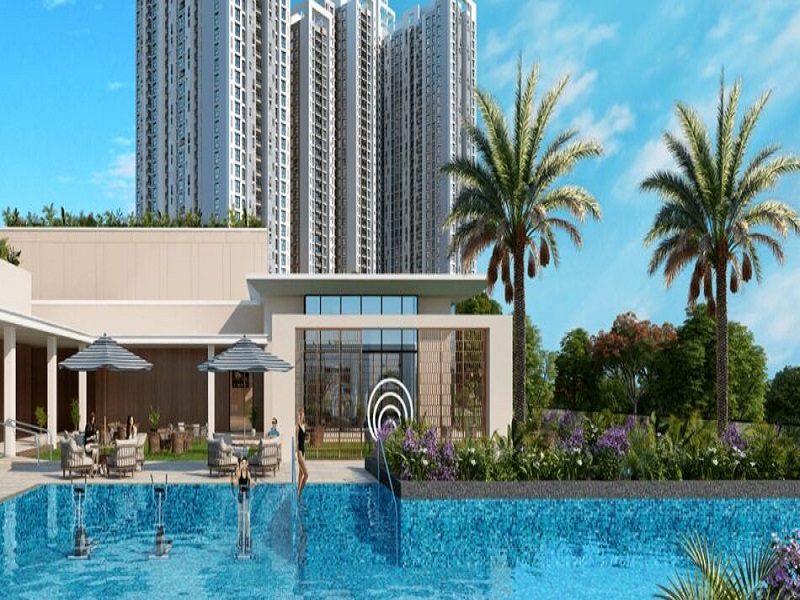 Birla Arnaa is a housing project in Kogilu, Bangalore. The project offers various layouts of 1, 2, and 3 BHK flats. Birla Arnaa flats has modern design. Covered by green trees, Birla Arnaa offers a calm living experience. The project offers a lifestyle for those who want peace and calm. The flats are also built to increase natural light and airflow. The project has a clubhouse, swimming pool, gym, and more. Its location offers easy access to major parts of the city.
A total of 276 flats are available across 3.5 acres of land. The apartments are available in sizes ranging from 610 to 1472 square feet. The project is eco-friendly with rainwater saving and solar streetlights. Facilities for sports like basketball, tennis, and badminton are available. The project is close to reputed schools, hospitals, and shopping malls. They are making it an ideal choice for families.
Birla Arnaa's flats have large windows and balconies. The surrounding greenery provides stunning views to enhance the living. The project has gardens and walkways. They offer a healthy and relaxing lifestyle to the residents with nature.
The project has 24x7 security, CCTV, and power backup. These ensure a safe and cozy living for the residents.
We provide the best customer service to its residents. We also guarantee a seamless experience from inquiry to handover. The project's design meets every need of simple yet modern living. We keep in mind the comfort and convenience of our clients.
Apart from facilities within the flats, we provide easy access to public areas. You can reach hospitals, schools, shopping malls, and other necessities easily. This allows residents to live in comfort and relaxed.
Our engineers have designed the flats to release less smoke to the environment. As a result, we use energy in an effective way. We rely on solar energy, rainwater saving, and waste control.
We offer our buildings in a prime location, modern design, and competitive pricing. It has the brand name and option to add value to the property. Also, adapting to clean living makes it an ideal choice.
We also offer easy payment plans. Options like no pre-EMI schemes and subvention schemes are available. Buyers can choose a plan that best suits their budget.
Moreover, we provide premium service to our residents after sales. The customer service team is always available to resolve any questions. Regular maintenance keeps flats and common area in good condition.
Investing with us is not about buying a home. It's also about becoming a part of a rich community. Social events and activities connect residents and build relationships. Birla flats always have something going on, from cultural festivals to sports matches.
In conclusion, Birla Apartments in Bangalore are a perfect investment option. We assure you that this is the top choice for home buyers looking for comfort and luxury. It stands out for its comforts and facilities. These factors set them apart from other properties in the area. When you invest in Birla group, you enjoy luxury housing. Let's be part of a group that commits to excellence, quality, and trust.