We all worry about many different things before we buy a new house. We check out numerous projects and apartments, looking at the area, the amenities, etc. It takes work to find a perfect property. Getting a house is a big deal in India. It is the dream of someone, a place where the whole family loves each other. And it is usual to worry about the assurance of the project. But Birla Group's involvement in the project is the best proof that Birla Tisya in West Bangalore is assured.
India's top developer of real estate is the Birla group. It owns several commercial and residential buildings in the nation's metro cities—for instance, Mumbai, Noida, Gurugram, Bengaluru, etc. Birla Group has a good reputation because it works hard and does a great job in real estate.
Birla Tisya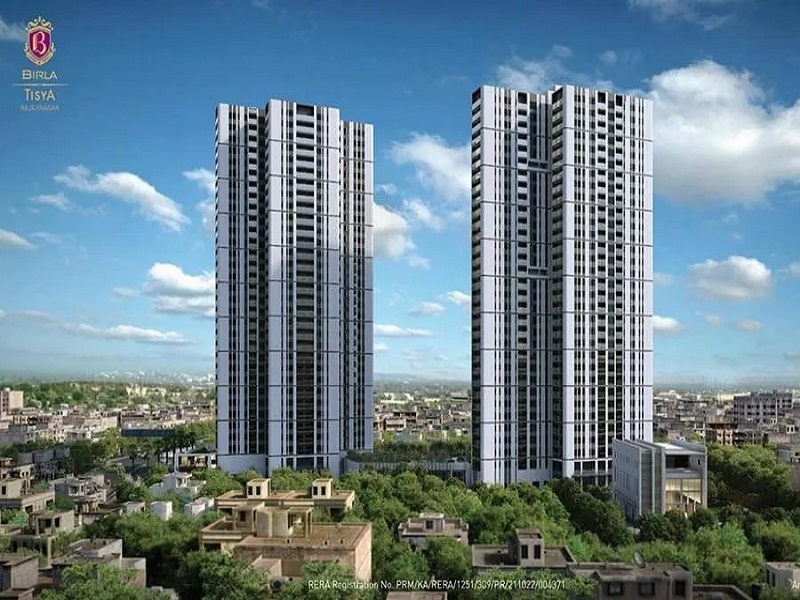 Birla Tisya is an excellent project by the Birla Group in West Bangalore. The property possesses 2 BHK, 3 BHK, and 4 BHK homes. The complete project covers an area of 72 acres and has 393 units for sale. Currently, the project is under construction. The launch of Birla Tisya was in October 2021. It is easy to get to other places from this project.
The closest airport is the Kempegowda International Airport, 42 km away. And it only takes 5 minutes to get to main roads like Mysore Road and Tumkur Road. The designs at Birla Tisya are stylish and up-to-date. The apartments get a lot of light from the large windows and balconies. Overall, the apartments look nice, have good lighting, are private, and have good ventilation.
Birla Tisya Amenities
Convenience Store
Table Tennis
Badminton Court
Basketball Court
Gym
Senior Citizen Area
Multipurpose Court
Jogging Path
Cricket Area
Cycling Track
Lift
Private Parking
24x7 Security
24x7 Water
Yoga Area
AV Room
Activity room
Party Hall
Swimming Pool
Kids Pool
Perks of Living in Birla Tisya
Security System - Birla Group makes sure that people are safe. There is a boundary around the whole project. All day, CCTV cameras watch everything that goes on. There are boom barriers at every entrance and exit. You never have to worry if you live here. Everyone in your family is safe. At the main gate, guards look around everyone who comes and goes.
Garden and Greenery - We do not get fresh air where we live today. We all want to live in an area with parks, trees, and other green things. Along with the property, in the project, there were gardens and streets lined with trees.
Healthcare facilities - The essential thing we pay attention to when buying a new house is whether or not it has good medical facilities. For any late-night accidents or medical emergencies, it is crucial to have good access to medical care in the area.
Clinics, hospitals, and nursing homes of good quality are all close to Birla Tisya in West Bangalore. Apollo Hospital and Manipal hospital are the nearest hospitals to Birla Tisya.
Wrapping Up
Hence, Birla Tisya Property in West Bangalore is one of the safest places to buy in Bangalore. The project has a lot of features that make living comfortable and safe. Even the project location is excellent, giving people easy and convenient ways to get around. All of the commercial hubs and most important places are nearby. Birla Tisya is the best project for people to live in West Bangalore. If you buy property in BilraTisya, you will never regret it.
Birla Arnaa is a new prelaunch apartment by Birla Estate. Located at Rajarajeshwari Nagar, Bangalore.